EITC
The West Shore Foundation participates in Pennsylvania's Educational Improvement Tax Credit (EITC) program and is an eligible Educational Improvement Organization (EIO).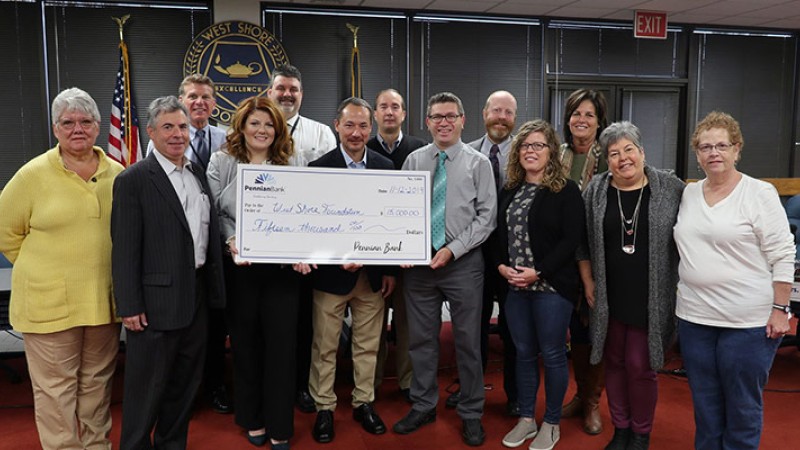 Our Foundation is supported by community families, businesses, and partners who invest in the enhancement of Academics, Arts, Athletics, Technology, and Leadership throughout the West Shore School District. The Foundation ensures that every dollar raised aligns with the school district's priorities and goals – focusing on communication, collaboration, critical thinking, and creativity.
The EITC program represents one of many giving opportunities through which businesses can support programs within the West Shore School District. Your EITC contributions will support the following DCED approved programs:
Da Vinci Course
This high school course offers students the opportunity to develop personalized projects that align with PA Core Standards in Science, Technology, Engineering, and Math (STEM). Students participate in problem-based and project-based learning activities that develop the skills of problem-solving, creativity, critical thinking, judgement, and service orientation as they are guided to produce original ideas, objects, and structures. The course provides an interdisciplinary approach to integrating STEM into practice while offering field and/or real-life experience to students.
Grand Challenges
This project was developed using the National Academy of Engineering's 14 Grand Challenges for Engineering as the foundation for middle school students to use design thinking and problem solving to help improve where they live, work, and play. The challenges are also aligned to PA science standards and ISTE standards. These challenges are designed to improve the lives of people no matter where they live and are centered on safety, security, and the ability to have basic human needs for all.
Engineering by Design STEM Labs
The West Shore School District wants to provide elementary school students with opportunities for STEM experiences that are engaging and relevant and are aligned to the ITEEA framework. The District has outfitted a STEM lab at the new Rossmoyne K-4 building. The teachers will utilize the Engineering by Design curriculum to ensure students have meaningful experiences. The goal is to expand labs across the other 7 elementary buildings.
Kindergarten Acceleration Program (KAP)
The West Shore School District's Kindergarten Acceleration Program provides an all-day kindergarten experience for students who need an academic boost in mathematical and literacy skills to prepare them for the 1st grade..
Educational Improvement Tax Credit (EITC) Program
The program provides tax credits to eligible businesses contributing to a Scholarship Organization, an Educational Improvement Organization, and/or a Pre-Kindergarten Scholarship Organization. Visit the DCED programs to learn more.
Educational Improvement Organization (EIO)
EIOs are non-profit organizations that have been approved by DCED for participation in the EITC program. To become an EIO, the non-profit must apply to the DCED to show how their programs improve the educational opportunities for children. The West Shore Foundation has been designated an eligible EIO.
Eligible Businesses
Businesses authorized to do business in Pennsylvania who are subject to one or more of the following taxes:
Personal Income Tax
Capital Stock/Foreign Franchise Tax
Corporate Net Income Tax
Bank Shares Tax
Title Insurance & Trust Company Shares Tax
Insurance Premium Tax (excluding surplus lines, unauthorized, domestic/foreign marine)
Mutual Thrift Tax
Malt Beverage Tax
Retaliatory Fees under section 212 of the Insurance Company Law of 1921
For additional information on the EITC program and to learn how your business can participate, please visit dced.pa.gov.
Get in Touch
Please contact the West Shore Foundation office for more information about how you can make a positive impact on our students and teachers.