Fall 2023 Grant Recipients Announced!
Congratulations to our Fall 2023 Educator Innovation Grant recipients!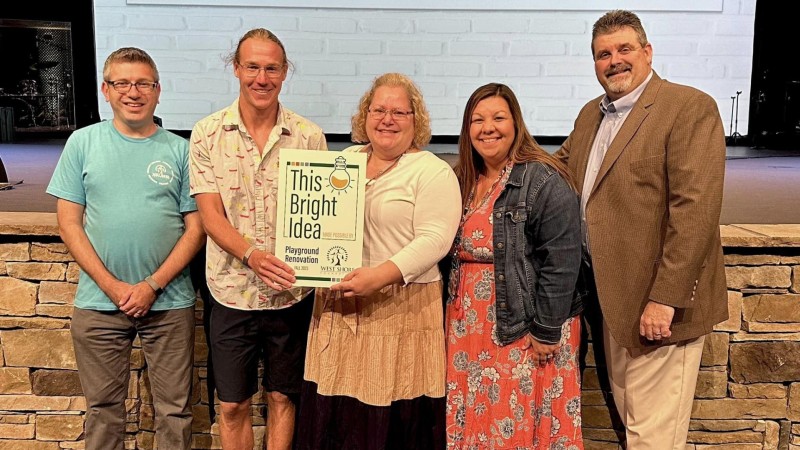 During the West Shore School District's Opening Day event in August, the West Shore Foundation awarded several staff members a West Shore Foundation Educator Innovation Grant check. Thanks to support from our community, donors, and sponsors, the Foundation was able to fund a combined total of $21,464.35 to assist District staff in bringing their visions to reality.
Congratulations to our Fall 2023 Educator Innnovation Grant recipients…
Aliyah Quilty
Fishing Creek Elementary School
Flags for Fishing Creek
$672.00
Melissa Wabrick
New Cumberland Middle School
Mental and Physical Wellness
$912.88
Tom Dever
West Shore Academy
West Shore Academy Lighting
$1,000.00
Carrie Livingston
West Shore School District
Coding for Low-Incidence Populations
$1,207.80
Kristin Stahl
k-5 Acceleration and Enrichment
Enriching the Curriculum Through Coding
$1,644.75
Eric White
Red Land High School
Red Land Trail System Maps
$1,775.00
Caitlin Shepski
Red Land High School
Music Recording Technology Expansion
$1,979.88
Erin Milewski, Jessica Noll, and Bambi Arnold
Red Mill Elementary School
Therapeutic Pod
$2,300.00
Jillian Ambrose
Elementary ELD Department
Building Vocabulary Foundations Through Texts
$2,723.70
Nikki Dissinger and Kyle Hoover
Highland Elementary School
Playground Renovation
$2,898.34
Tamara Scribner
Health Services Department
Healthy Hearing
$4,350.00
Get in Touch
Please contact the West Shore Foundation office for more information about how you can make a positive impact on our students and teachers.